Trimble Advances Reality Capture with the New X9 3D Laser Scanner
The Trimble X9 3D laser scanning system, a new versatile reality capture solution for surveying, construction and engineering professionals, is now available.
The Trimble® X9 scanner is built on Trimble's proven laser scanning technologies, engineered to enhance performance in more environments while leveraging innovations such as Trimble X-Drive technology for automatic instrument calibration, survey-grade self-leveling and laser pointer for georeferencing.
The new Trimble X9 expands on the industry-proven Trimble X7, delivering longer range, higher accuracy, shorter scan times and exceptional sensitivity, improving scan results and boosting productivity. Advanced processing and a high-performance laser increases the sensitivity of all scans, positioning the X9 at the forefront for capturing difficult dark or reflective surfaces. A new center unit design improves signal transmission for better scan quality. With more efficient reality capture capabilities, the X9 broadens potential applications for customers in surveying, building construction, oil and gas, rail, forensics, monitoring, tunneling, mining and others.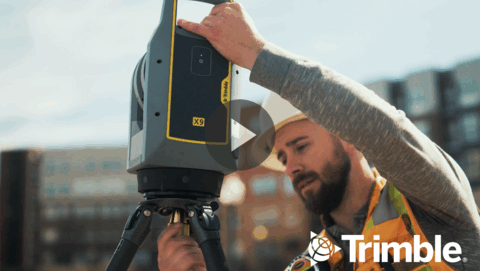 The X9 provides significant time savings with extremely accurate and dependable data, enabling confident decision making both in the field and in the office through in-field registration within Trimble Perspective and Trimble FieldLink softwares by minimizing the need for target deployment. The auto-calibration eliminates the need for annual calibration, which lowers the cost of ownership, reduces downtime and significantly increases the users' return on investment. In addition, the X9 also includes survey-grade self leveling with the industry's widest compensation range for fast, easy setup.
Trimble X9 data can be delivered directly from Perspective or FieldLink software to Trimble's office software, including Trimble Realworks™ 3D scanning software, Trimble Business Center office software, SketchUp and Tekla, or exported to industry-standard formats to produce application-specific deliverables. The Trimble ecosystem provides the software and flexibility to work the way scanning professionals want, so they can deliver what their customers need.
"Our customers buy Trimble because they want reliability and performance," said Jason Hayes, market manager, Reality Capture Solutions, Trimble Geospatial. "The Trimble X9 is simple to use, provides unsurpassed reliability, and excels at creating high-quality digital representations of the world for applications ranging from fast-paced building documentation to challenging outdoor surveys."
The Trimble X9 is available now through Trimble's Geospatial and Building Construction Field Solutions Distribution Partners.
For more information, visit: geospatial.trimble.com/X9. Read more about the new versions to support the X9 of Trimble Perspective and Trimble RealWorks. View the Webinar replay